May 4, 2022
Mother's Day at Arsenal Yards
Mother's Day is around the corner – and this year, make her feel
extra
special!
Don't know what gifts to get Mom for her special day? Not sure where to make Brunch or dinner reservations? Want to make sure this is a Mother's Day she'll remember? Arsenal Yards has everything you need to plan the perfect day for the moms in your life.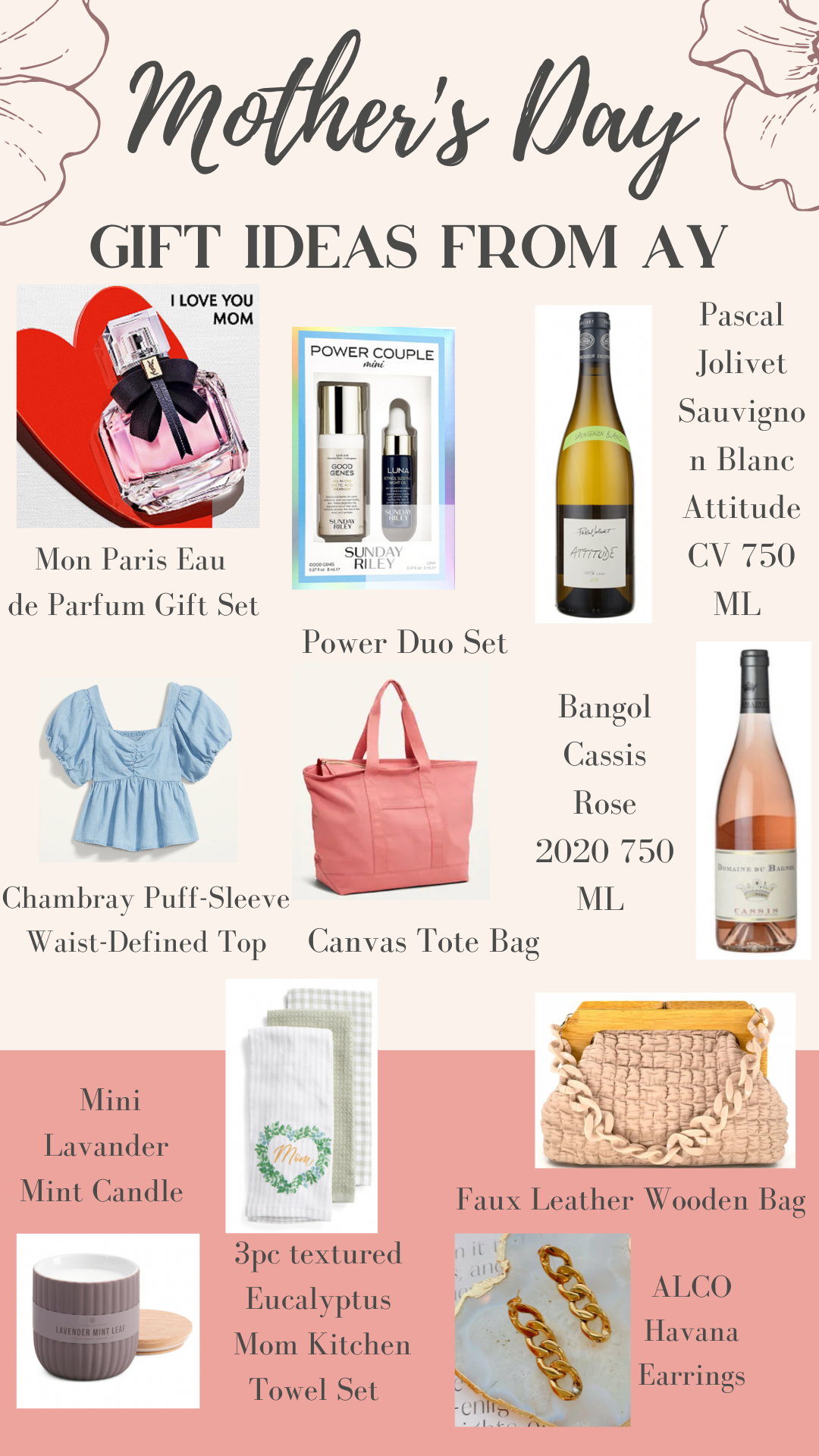 On the Gift Guide:
From Ulta: Sunday Riley; Power Duo Set  | Yves Saint Laurent; Mon Paris Eau de Parfum Gift Set
From Old Navy: Canvas Tote Bag for Adults | Chambray Puff-Sleeve Waist-Defined Top for Women 
From Gordons: Bangol Cassis Rose 2020 750 ML | Pascal Jolivet Sauvignon Blanc Attitude CV 750 ML
From Marshalls:  Chesapeake Bay Candle; Mini Lavander Mint Candle |Cupcakes & Cashmere; 3pc textured Eucalyptus Mom Kitchen Towel Set  
From Too Tempted:  Faux Leather Wooden Bag | ALCO Havana Earrings 
Looking to take mom out for a meal this Mother's Day?
We've got all your restaurant needs covered too. 
Ben & Jerry's: 
Time to treat mom to a scoop… or two! Stop by Ben & Jerry's and buy mom a classic cup or cone🍦.  
Buttermilk and Bourbon: 
What is Mother's Day without Brunch? Looking for festive cocktails, southern charm, and crazy delicious & creative dishes? Buttermilk and Bourbon is the brunch spot you've been looking for. To make a reservation click here. 
City Works: 
Speaking of Mother's Day brunch, looking for a family-friendly classic brunch spot? City Works is the place to be! Perfect for mom, because nothing says I love you like comfort food. To make a reservation click here. 
Condesa Restaurant & Tequila Bar: 
Looking for dinner plans? Condesa has the best authentic Mexican food around. Treat Mom to some tacos and tequila to show your love.
To make a reservation click here. 
Frank Pepe: 
What are Mom's favorite toppings? Grab a pie or two to share with the whole family this Mother's Day. 
Want to take Mom to a dinner spot she'll never forget? Kura Sushi is the spot for you, with their revolving sushi conveyor belt, robo waiters, and free prizes, Mom is sure to have fun with the family.   
Roche Bros. 
Show your love with a beautiful bouquet from Roche Bros. Choose from the most popular Mother's Day flowers like roses, carnations and tulips or make a customized bouquet of your choice. Learn more & shop, here. 
Tori Jiro 
Taking mom out to dinner is a classic way to show your appreciation. Taking her to Tori Jiro? Now that's a proper Mother's Day dinner. With her choice of cocktail, veggies, and meat skewers, you know it's going to be good.  To make a reservation click here. 
Categories: Uncategorized
Back to News & Press >