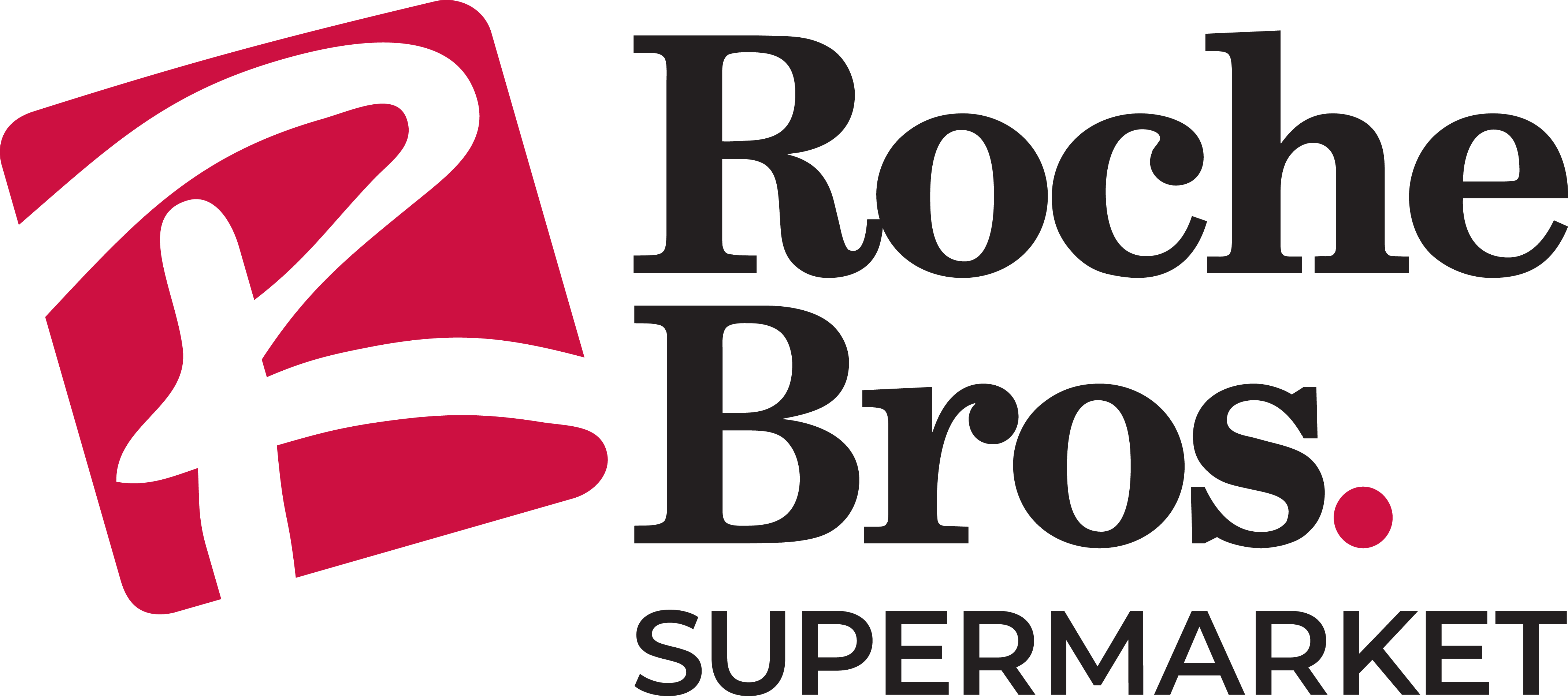 Roche Bros.
Roche Bros. is a family business, employing more than 4,800 associates in its 19 Roche Bros., Sudbury Farms and Brothers Marketplace grocery stores. Headquartered in Wellesley, Mass., Roche Bros. offers the highest quality meat, seafood and produce, favorite food brands, full-service catering, and home delivery. Second generation owners Rick and Ed Roche carry on the family tradition, operating Roche Bros. with a passion for great food and great customer service. Learn more.

Find inspiration for your next meal in every aisle with an array of local and national grocery items, as well as with our convenient made-to-order and grab and go services.

-R.B. Roasters – Our in-store café providing a variety of coffee, tea and made-to-order espresso drinks
-Flatbread Pizza Bar – Store made flatbread pizza available for a quick grab and go lunch or order ahead for pizza night
-The Kitchen – Delicious prepared meals ready to eat or take home, heat and serve making meal time simple
-The Chop Shop – Freshly chopped fruits and vegetables ready to eat, along with smoothies and fresh squeezed orange juice
-The Cheese Shop – An array of artisanal cheeses and ingredients to create the perfect cheese platter or charcuterie board

Sign-up to stay connected for all opening information, store details, recipes and more here.
Hours
Monday - Saturday: 7:00am - 9:00pm
Sunday: 8:00am - 8:00pm

Service Counters close at 8pm daily
Specials and News
Order your Thanksgiving dinner with Roche Bros. Today!
Not in the mood to cook up a turkey feast this year? No worries, Roche Bros. has you covered! Turkey, ham, mashed potatoes, gravy, stuffing - you name it, they have it.
Choose the Oven Roasted Turkey Dinner that serves 8-10 or for a smaller party, order the Boneless Turkey Breast Dinner. There are lots of options that are sure to please the crowd.
Place your dinner order by noon on Sunday, November 19ᵗʰ for pickup on Wednesday, November 22ⁿᵈ. Available while supplies last!
Streamline your errands with FREE convenient grocery pickup!
Roche Bros Supermarket now offers FREE curbside pickup at Arsenal Yards, with the added convenience of scheduled pickup in as little as 2 hours!
Pull into one of Roche Bros. clearly marked pickup spots and they'll have your grocery ordered loaded to get you on your way quick and easily!
Prefer the convenience of delivery? Delivery service is also available for a nominal fee. This option allows you to have your groceries delivered directly to your doorstep, providing you with even more convenience and flexibility.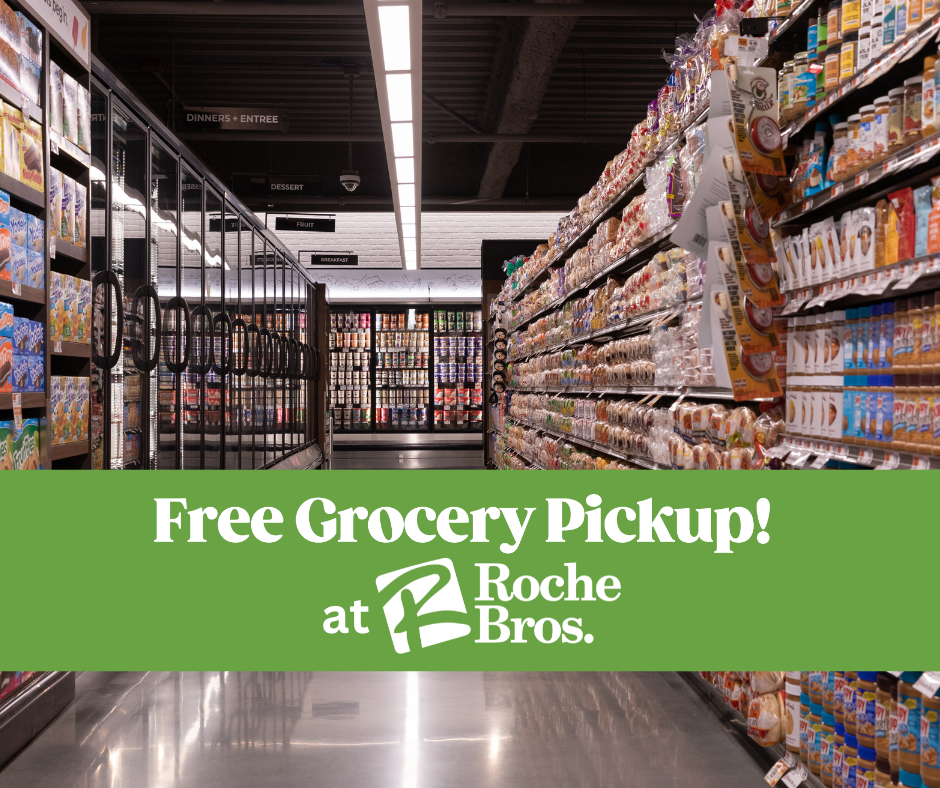 Designated free and easy parking is available in the Red Parking Garage with direct access into Roche Bros.!
Follow the arrows outlined in the map below to the Red Parking Garage with direct elevator access into Roche Bros.!
Simply grab a cart and go - the easiest way to get your groceries from checkout to your car!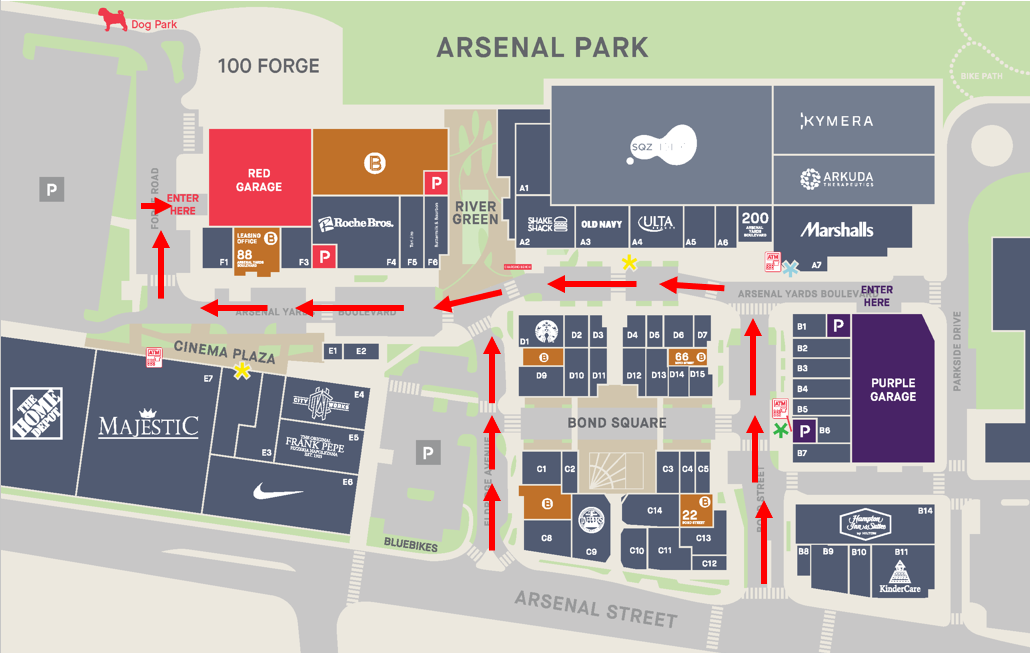 Parking & directions
Arsenal Yards is approximately a 10-minute drive from Harvard Square and approximately a 15-minute drive from Copley Square. Other areas will find it easily accessible from the Mass Pike or Fresh Pond Parkway, among many routes available to Watertown's East End. Once on site, ample free parking is available. Traveling via public transportation? MBTA bus route 70 stops right on site and can be picked up at the Central Square Red Line T stop.