Pre-Rare Whiskey Raffle Tasting
Sat, Dec 3 | 1:00 PM - 4:00 PM | Gordons
Whiskey Galore at Gordon's!
On December 3rd, our Pre-Winter 'Raffle" Tasting Event will be held from 1-4pm at Gordon's Watertown. This spirited day features over 15 tables, pouring over 50+ single barrels and core items to sample, plus special in-store single barrel releases and First Come, First Serve items! With over 75+ First Come, First Serve selections waiting for you at the door, this is the perfect day to stock up on gifts for loved ones, colleagues or to treat yourself!
Participating distilleries include: Wilderness Trail, Sagamore, Knob Creek, Old Elk, Barrell, Pinhook, Maker's Mark, Rezpiral, Starlight, Grander, Heaven Hill, Found North, New England Barrel Co., Chairmans, Old Potrero, 1792, Buzzard Roost, Holmes Cay & more.
Stay tuned as we will be announcing shortly our format and list of dates for our 22′ Winter Rare Whiskey Raffle. Thank you as always for your patience and look out for weekly updates including raffle dates, guidelines and a full list of First Come, First Serve items available December 3rd!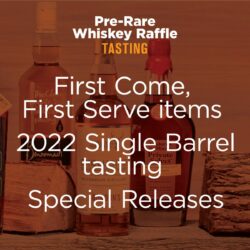 « Back to Events
Parking & directions
Arsenal Yards is approximately a 10-minute drive from Harvard Square and approximately a 15-minute drive from Copley Square. Other areas will find it easily accessible from the Mass Pike or Fresh Pond Parkway, among many routes available to Watertown's East End. Once on site, ample free parking is available. Traveling via public transportation? MBTA bus route 70 stops right on site and can be picked up at the Central Square Red Line T stop.