Bakery Clerk
Posted Tue, Mar 22 | Roche Bros.
About the Role:
To prepare and display product in the department in a careful, clean, neat, and expedient manner and ensuring that all product is fresh, rotated, and well-stocked for our customers while maintaining great customer service.
Minimum Qualifications:
Must be 18 years of age.
Must be able to work as a team member and interact positively with customers.
Must be able to read, write, speak, and understand English, with the ability to follow instructions.
Ability to work a schedule based on the business needs of the store location.
Authorized to work within the U.S.
Responsibilities
The list of essential functions is not exhaustive and may be supplemented as necessary by the company.
Provide continuous attention to customers' needs at the service counter.
Commit to the "Golden Rule" and work with other associates to build a strong bakery team.
Achieve the highest associate morale in the industry by working in a style that is Respectful, Supportive and Totally Team Oriented (RSTO).
Greet, assist and thank customers in a prompt, courteous, and friendly manner, along with offering product suggestions.
Process merchandise according to production guidelines and follow established sanitation standards.
Prepare and wrap bakery related products.
Stock display cases, and keep all bakery ingredients or merchandise rotated in accordance with company policy and product code dates and always make use of the oldest products first (first in, first out).
Write on cakes/prepare product to meet customers specifications.
Receive and unload bakery product and store in designated area.
Practice the "Cleaner's Creed" and proper sanitation procedures.
Monitor and maintain the cooler, freezer, equipment, and work area to the sanitation standards of the company.
Keep work area swept clean, orderly, and free from safety hazards; report hazards to management.
Able to operate and clean the bakery equipment and tools.
Secondary Job Functions:
Restock and use supply items efficiently to eliminate waste and to maintain the lowest cost supply.
Promote items on public address system.
Notify management of associate theft, customer shoplifting, unauthorized mark downs or property defacement.
Successful completion of the onboarding/e-learnings and checklist within 30 days of hire/entering the department.
Other duties as assigned by management.
For more information and to apply, visit Rochebros.com/Careers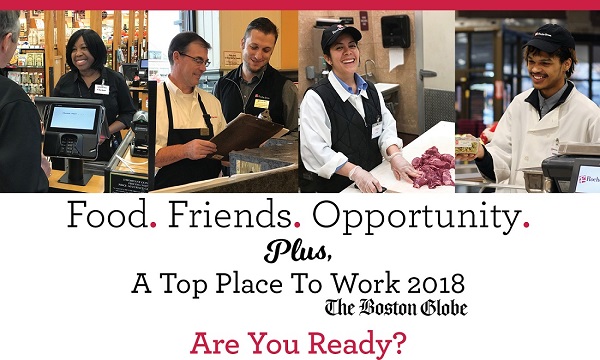 « Back to careers
Parking & directions
Arsenal Yards is approximately a 10-minute drive from Harvard Square and approximately a 15-minute drive from Copley Square. Other areas will find it easily accessible from the Mass Pike or Fresh Pond Parkway, among many routes available to Watertown's East End. Once on site, ample free parking is available. Traveling via public transportation? MBTA bus route 70 stops right on site and can be picked up at the Central Square Red Line T stop.